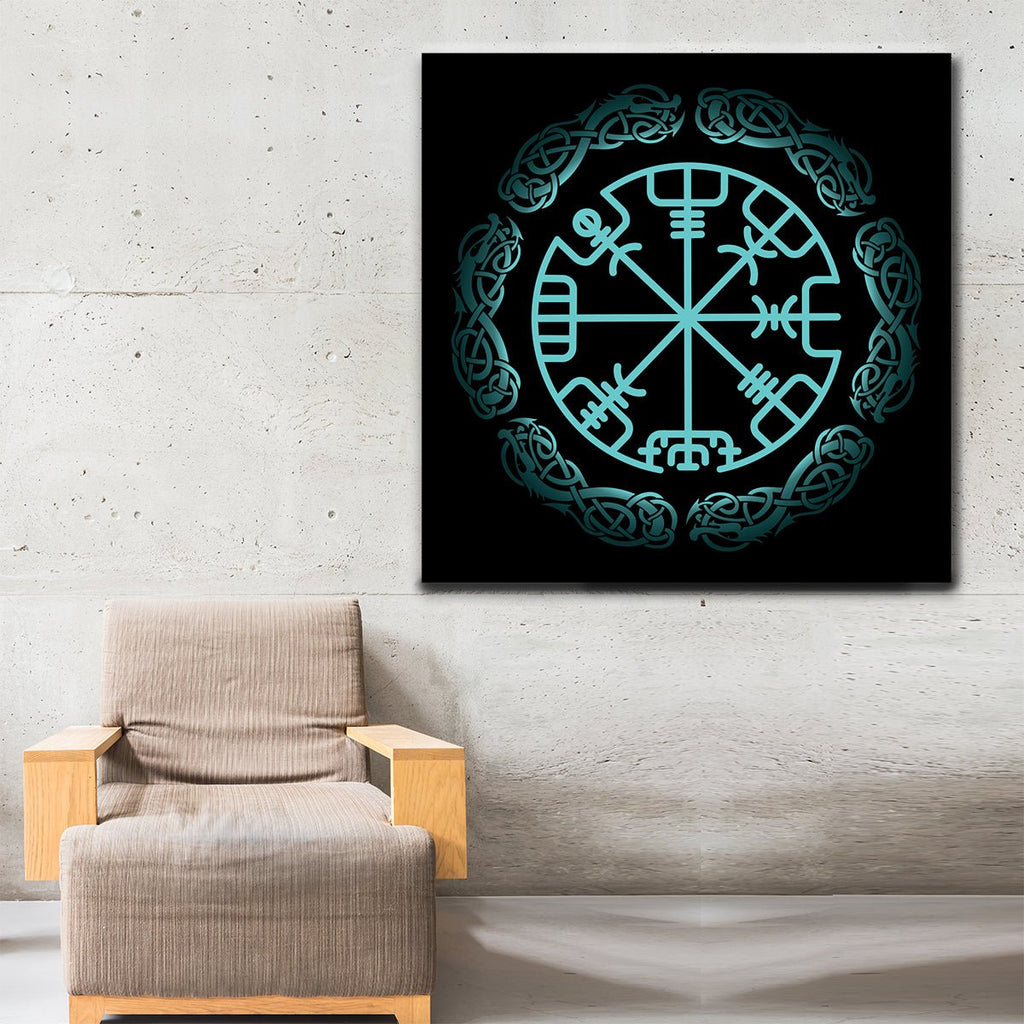 A Vegvísir is an Icelandic magical stave intended to help the bearer find their way through rough weather. A leaf of the manuscript provides an image of the vegvísir, gives its name, and, in prose, declares that "if this sign is carried, one will never lose one's way in storms or bad weather, even when the way is not known.
3 Premium Canvas Sizes To Choose From:

Large

 

Size (36W X 36L) 
Medium

 

Size (24W x 24L)
Small

 

Size (16W x 16L)
1.25" Frame Thickness
Free Shipping in the USA!
Allow 7-10 business Days For Delivery. 
Premium artist-grade 100 cotton canvas. Custom-developed, pigment based inks create vibrant reproductions that resist fading and scratches. Sturdy, solid facing canvas front prevents stretching and sagging. Patented manufacturing process allows us to create corners free from unsightly bulges or excess material. Every canvas comes with a fully finished black backing, with pre-installed hanging hardware.
Vegvisir Viking Symbol Icelandic Magical Stave Framed Wall Art

Description

A Vegvísir is an Icelandic magical stave intended to help the bearer find their way through rough weather. A leaf of the manuscript provides an image of the vegvísir, gives its name, and, in prose, declares that "if this sign is carried, one will never lose one's way in storms or bad weather, even when the way is not known.

3 Premium Canvas Sizes To Choose From:


Large

 

Size (36W X 36L) 
Medium

 

Size (24W x 24L)
Small

 

Size (16W x 16L)

1.25" Frame Thickness

Free Shipping in the USA!

Allow 7-10 business Days For Delivery. 

Premium artist-grade 100 cotton canvas. Custom-developed, pigment based inks create vibrant reproductions that resist fading and scratches. Sturdy, solid facing canvas front prevents stretching and sagging. Patented manufacturing process allows us to create corners free from unsightly bulges or excess material. Every canvas comes with a fully finished black backing, with pre-installed hanging hardware.

Reviews