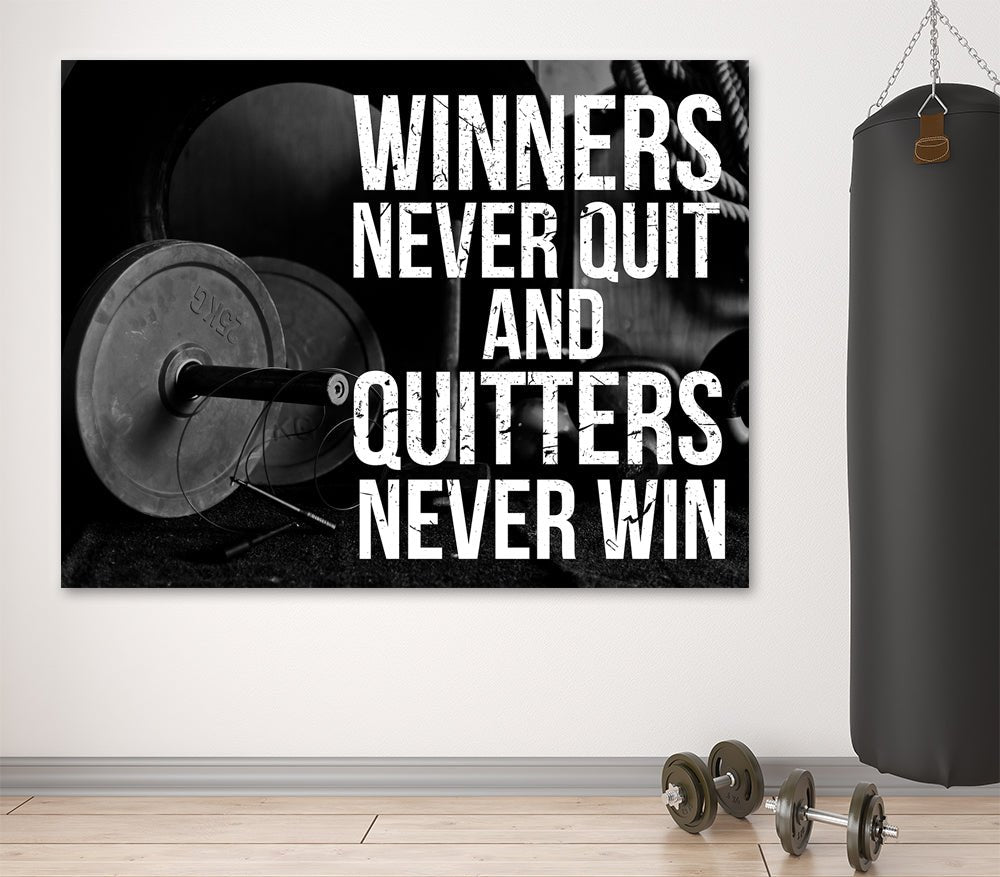 Framed Fitness Wall Art Featuring Winners Never Quit And Quitters Never Win
This high quality canvas wall art with "Winners Never Quit And Quitters Never Win" - Vince Lombardi quote from our gym fitness motivation series will look great hanging on your gym walls. Comes framed and ready to hang right out of the box.
3 Premium Canvas Sizes To Choose From:

Large

 

Size (40W X 30L) 
Medium

 

Size (36W x 24L)
Small

 

Size (24W x 18L)
1.25" Frame Thickness
Free Shipping in the USA!
Allow 7-10 business Days For Delivery. 
Premium artist-grade 100 cotton canvas. Custom-developed, pigment based inks create vibrant reproductions that resist fading and scratches. Sturdy, solid facing canvas front prevents stretching and sagging. Patented manufacturing process allows us to create corners free from unsightly bulges or excess material. Every canvas comes with a fully finished black backing, with pre-installed hanging hardware.
Hustle Beats Talent Canvas Framed Wall Art
Winners Never Quit And Quitters Never Win Motivational Gym Fitness Framed Wall Art Canvas
Winners Never Quit And Quitters Never Win Motivational Gym Fitness Framed Wall Art Canvas

Description

Framed Fitness Wall Art Featuring Winners Never Quit And Quitters Never Win

This high quality canvas wall art with "Winners Never Quit And Quitters Never Win" - Vince Lombardi quote from our gym fitness motivation series will look great hanging on your gym walls. Comes framed and ready to hang right out of the box.

3 Premium Canvas Sizes To Choose From:


Large

 

Size (40W X 30L) 
Medium

 

Size (36W x 24L)
Small

 

Size (24W x 18L)

1.25" Frame Thickness

Free Shipping in the USA!

Allow 7-10 business Days For Delivery. 

Premium artist-grade 100 cotton canvas. Custom-developed, pigment based inks create vibrant reproductions that resist fading and scratches. Sturdy, solid facing canvas front prevents stretching and sagging. Patented manufacturing process allows us to create corners free from unsightly bulges or excess material. Every canvas comes with a fully finished black backing, with pre-installed hanging hardware.

Hustle Beats Talent Canvas Framed Wall Art

Reviews